A dual-screen laptop from Lenovo, an HP laptop with updated features for video conferencing and a new Samsung Galaxy priced around US$200 are some of the most exciting laptop and smartphone unveilings at CES 2023.
This year, CES says more than 323 Fortune Global 500 Companies have registered, along with 85 Interbrand 100 companies covering 41 technology categories.
Showrunners say 174 countries are represented at the event.
[RELATED: The 10 Coolest Gadgets Revealed At CES 2023]
Kicking off CES 2023 was Advanced Micro Devices (AMD) CEO Lisa Su, who showed the power of AMD's new lineup of processors and AI accelerators.
Other speakers included HP President and CEO Enrique Lores and Lenovo Executive Vice President and President of International Markets Matt Zielinski.
New Zealand pricing and availability for the below devices is yet to be confirmed.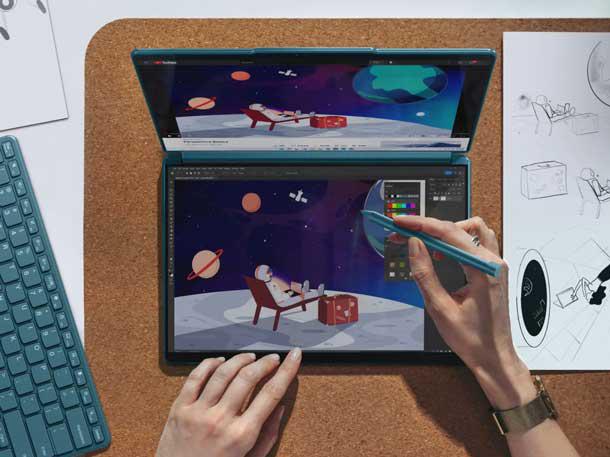 Lenovo Yoga Book 9i
In June, Lenovo will launch a full-sized organic light-emitting diode (OLED) dual-screen laptop built on the Intel Evo platform and running Microsoft's Windows 11 operating system.
The laptop is expected to cost US$2,099.99.
The Yoga Book 9i promises more versatility than the traditional clamshell laptop, allowing users the ability to view images across two 13.3-inch 2.8K OLED displays with a five-finger motion and the ability to work on two separate files simultaneously, according to Hong Kong-based Lenovo.
Users can watch video on one screen while taking notes on the second screen simultaneously without interruption, according to Lenovo.
The 9i can switch from laptop to tablet to tent mode, which can allow users to display slide presentations on one screen while controlling the presentation on a second screen.
Presentation hosts can go through their slides on one screen while answering questions on the second screen.
The 9i also has a folio stand, detachable Bluetooth keyboard and stylus.
Lenovo ThinkPhone by Motorola
Motorola, owned by Lenovo, showcased its ThinkPhone smartphone at CES, promising availability worldwide in the coming months.
The phone is powered with the Snapdragon 8+ first generation mobile platform and the ThinkShield security platform and Moto Threat Defense service based on artificial intelligence, according to Lenovo.
ThinkPhones also come with Microsoft 365, Outlook and Teams preloaded. Motorola and Microsoft also promise a push-to-talk feature for instant, Walkie Talkie-esque communication through Teams.
The phone has a 6.6-inch display, a 50 megapixel camera and more than 36 hours of battery life, according to Lenovo.
Users can manage their fleets of ThinkPhones with Moto OEMConfig and Moto Device Manager Administrators can also remotely configure Moto Secure features such as lock screen settings, network alerts and pin layout scrambling.
The Moto KeySafe processor promises to isolate PINs, passwords and cryptographic keys in tamper-resistant environments.
The phone can endure shocks and drops from about 4 feet and can withstand water immersion of about 5 feet for up to 30 minutes.
Think 2 Think connectivity allows users to integrate ThinkPhones with Lenovo ThinkPads for transferring text, photos, scanned documents, videos and other content between the devices.
Lenovo Tab Extreme
Among the standout tablets at CES 2023 is the Lenovo Tab Extreme, a 14.5-inch digital notebook with a 3K OLED display and running on the Android 13 operating system.
The Extreme is expected to drop late in the year starting at US$1,199.99.
The Extreme has a 120 hertz refresh rate and MediaTek Dimensity 9000 octa-core processor, according to the company.
Battery life should last up to 12 hours. And the Extreme has a dual-mode stand that magnetically attaches to the device for horizontal and vertical use.
Smart technology ensures that the camera focuses on users during video calls even as they move around, and narrow beaming with four built-in microphones work to filter out extra noise.
A 360-degree voice capture mode can make sure multiple call participants sharing a room are equally heard, according to Lenovo.
Users can work on four applications simultaneously with the split screen feature and open up to 10 applications as floating windows.
Lenovo Freestyle allows users to connect the Extreme with Lenovo Windows PCs for sharing files across devices and mirroring.
HP EliteBook 1040 G10
HP is set to release its EliteBook 1040 G10 laptops later this year, revealing price information before then.
The business notebooks come with HP Presence for new collaboration and video conferencing capabilities such as multi-camera experience, auto camera select, keystone correction and "be right back" (BRB).
The multi-camera experience includes dual video streams and camera switching so users can show their faces and an object picture in picture or side by side.
Auto camera select recognises which camera users face, and keystone correction automatically crops and flattens images from a camera feed with a single click, according to Palo Alto, Calif.-based HP.
As for the BRB feature – users can change video feeds to a still image without disrupting meetings.
Intelligent hibernate learns users' patterns to minimize battery use after work.
And smart sense uses artificial intelligence to adapt thermal performance and allow for quieter laptops.
HP Dragonfly Pro Chromebook
HP announced the Dragonfly Pro Chromebook, a 14-inch device with an 8-megapixel camera.
The clamshell Chromebook is built on Intel Evo with an ultrabright 1,200-nit touchscreen display aimed for improved video calls and streaming, HP said.
HP's Dragonfly Pro portfolio of laptops also promise all-day battery life and 24-hour live concierge support for users, according to the company.
Acer Swift Go 16
Acer has a new Swift Go line of notebooks, with its Swift Go 16 expected to launch in North America in June for US$799.99.
The 16-inch Swift Go offers a 3.2K OLED display with 120 hertz refresh rate.
It is powered by 13th generation Intel Core H-series processors and batteries that last more than 9.5 hours, according to Taiwan-based Acer.
Those Intel Core processors also have Intel Movidius VPUs with artificial intelligence (AI) engines for improved video collaboration and integration, according to the company.
The Intel Unison allows for PCs to connect with Android or iOS devices, allowing for easy file transfers, calling, messaging and notification management across multiple systems from one screen.
The Swift Go's PurifiedView video conferencing feature boasts background blurring, automatic framing and eye contact, with a 1440p webcam that reduces noise and has video feedback in low-light conditions.
LG Gram Style 16
LG showed off its Gram Style laptops, which have hidden touchpads activated when users touch the haptic rectangle under the keyboard.
Gram Style comes in 16 inches or 14 and has 16:10 OLED displays with anti-glare low reflection.
The 16-inch one has a 120-hertz refresh rate and 13th generation Intel Core processors, according to LG.
The Grams also now offer Dolby Atmos audio and weighs about 1.22 kg.
It comes with LG Smart Assistant and LG GLance.
Samsung Galaxy A14
Samsung's latest midrange 5G smartphone is the Galaxy A14, which boasts a multi-day battery, improved quality for selfies and expanded storage.
The phones are priced online for US$199.99.
The A14 guarantees up to two generations of Android operating system upgrades and up to four years of security updates, according to South Korea-based Samsung.
It has a 13-megapixel front camera and triple-lens rear camera.
The phones offer a 90 hertz display, 6.6-inch screen and 128 gigabytes of onboard storage, which can expand to a terabyte with a microSD card.
The improved security and privacy dashboard shows how applications track data and allow for tracking disabling.
And the A14 has an integration with Google Meet for better messaging and video call capabilities.
TCL 40 R 5G
The TCL 40 R 5G smartphones come with enhanced Nxtvision screen technology and a camera powered by artificial intelligence (AI).
The phone boasts a 6.6-inch, 90-herz display and a camera that promises enhanced stabilisation, fast focus and high-definition resolution (HDR) even in low light settings.
The camera recognises facial features and can touch up portraits, according to the Chinese manufacturer.
TCL's 40 R 5G claims two days of battery life and works with TCL Link.
TCL Nxtpaper 12 Pro 5G
Another standout offering from TCL at CES 2023 is the Nxtpaper 12 Pro tablet, with a 5G version coming later this year for US$549.
The tablet has a 12.2-inch 2K screen with a low latency e-pen for writing and sketching, according to the company.
The tablet weighs less than 680 grams and allows for split screen mode.
TCL's Nxtpaper 12 Pro can also reverse charge other devices, according to the company.