Intel's new fourth-generation Xeon processer has set off a gold rush with no fewer than a dozen server vendors unveiling new devices that put the scalable chip at the heart of their next-generation builds.
Dell Technologies, Hewlett Packard Enterprise and Lenovo each have said they all have server lines that incorporate the chip in major launches.
Even smaller players such as Atos, Tyan and Lanner Electronics have unveiled products built with the chip inside.
Their enthusiasm is two-fold.
First, Intel's new chip is driving leaps forward in the use of computing power in the data centre. Micron Technology said the chip will eliminate bandwidth bottlenecks for "years to come"
Meanwhile, Supermicro is billing its new servers as a way for customers to reach environmental goals, adding that Intel's built-in accelerators can result in more efficient use of computing power.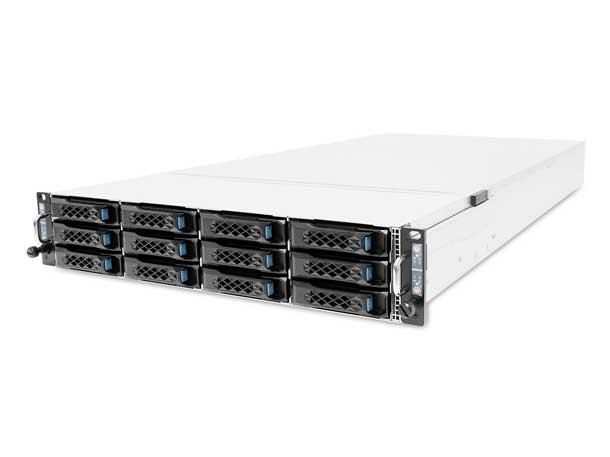 AIC
AIC said its newest generation of servers incorporating Intel's fourth-generation Xeon processors gives customers superior processing performance and energy efficiency for enterprise workloads, including storage, AI and high-performance computing.
The new line of AIC servers can accelerate PyTorch real-time inference performance by up to ten times using Intel Advanced Matrix Extensions compared with AIC's previous generation of servers.
Atos
Atos unveiled three server units that will rely on Intel's new chip in its latest generation of BullSequana edge servers.
The EX series gives customers interchangeable CPUs and GPUs, the company said.
The devices are designed for deploying applications with large computing demands at the edge such as AI and virtual reality gaming, it said.
Atos also has a new line of x86 servers—BullSequana SH—that each have two fourth-generation Intel Xeon Scalable processors built in. Atos said given its security, scalability and reliability capabilities, BullSequana SH can meet the demands of enterprises, cloud providers and hyperscalers.
Cisco
Cisco's newest UCS M7 servers that incorporate Intel's new chip have a 4-to-1 consolidation ratio compared with the company's previous generations of UCS servers, reducing the number of systems required and giving users the ability to do more with less, the company said.
The new C-Series and X-Series servers give users more performance and scalability.
They also provide application acceleration by supporting the Intel Data centre GPU Flex Series in its UCS X-Series Fabric technology.
It enables customers to support a wider range of compute-intensive workloads, Cisco said.
Dell
Intel's fourth-generation Xeon chips will power Dell's 16th generation of PowerEdge servers that can tackle workloads between clouds and at the edge, company founder, chairman and chief executive Michael Dell said.
Those capabilities will be needed to handle the incredible amount of data that needs to be stored and secured across all of those environments, he said.
The company is expected to release more information on the new PowerEdge servers soon.
HPE
HPE President and chief executive Antonio Neri said the company just launched new HPE ProLiant Gen11 servers and HPE Cray supercomputers built with the fourth-generation Intel Xeon Scalable processors.
The new machines will push the boundaries of computing performance, enabling AI at scale and fueling innovation, he said.
The HPE ProLiant DL320 Gen11 server is built for virtualised workloads such as software-defined compute, CDN, VDI and secure edge apps that require balancing processor, memory and network bandwidth.
Meanwhile, the HPE ProLiant DL360 Gen11 server was made to handle EDA, CAD and VDI work. The HPE ProLiant ML350 Gen11 server can handle IT infrastructure, data management, as well as VDI and ERP/CRM tasks.
Inspur
Inspur chief executive Peter Peng said the new Intel Xeon Scalable processors will be used in the company's next-generation G7 Series of servers.
The company's NF5180 general purpose density-optimised server supports intensive high-performance computing applications, while the company's TS860G7 mission-critical server uses eight of the new Intel fourth-generation Xeon chips to support large-scale databases, SAP HANA memory computing, virtualisation integration and the cloud requirements of hyperscalers.
Lanner
Lanner introduced two products, the NCA-6530 abd HMB-6130, that leverage the power of Intel's new chip.
The NCA-6530 is a 2U rackmount network security appliance, while the HMB-6130 is a compute blade for the Lanner HTCA-series.
Both support the dual socket of fourth-generation Intel Xeon Scalable processors to enable higher throughput, advanced hardware-enabled security and exceptional NIC module expansion.
Each unit has up to two times the PCIe bandwidth from PCIe 5.0 and 150 per cent greater memory capacity from DDR5.
"The 4th Gen Intel Xeon Scalable processors will deliver enhanced performance for network security and virtualisation workloads through increased throughput, higher memory bandwidth and faster input/output," said Jeans Tseng, CTO of Lanner.
Lenovo
Lenovo Chairman and chief executive Yuanqing Yang said the fourth-generation Intel Xeon Scalable processors will power Lenovo's new infrastructure technologies, including ThinkSystem servers, ThinkAgile hyperconverged infrastructure systems and ThinkEdge edge servers.
The ThinkSystem SR650 can hold two of Intel's fourth-generation chips, supports data analytics, public private and hybrid cloud applications, AI/ML workloads, high-performance computing and 5G/networking.
Micron
Micron showed off its DDR5 server memory portfolio for the data centre, which has been fully validated on the fourth-generation Intel Xeon Scalable processors, the company said.
With Intel's innovation, Micron said its DDR5 memory delivers up to twice the memory bandwidth over its previous generations, which is critical to sustaining the growth of cores in modern data centre processors.
The company hailed the innovation as relieving a potential bandwidth bottleneck for its customers.
"Transitioning to DDR5 will help alleviate a potential bottleneck for years to come by providing higher bandwidth to unlock more compute power per processor," the company said.
"Micron DDR5, in combination with 4th Gen Intel Xeon Scalable processors, benefits a wide range of workloads including SPECjbb, which delivers up to 49 per cent performance improvement on benchmarking for Critical-jOPS [Java operations per second] compared to previous generations."
Micron said its DDR5 memory should give customers more consistency and reliability in every part of the data centre thanks to on-die Error Correction Code and bounded faults.
On-die ECC corrects single-bit errors and detects multi-bit errors.
Nvidia
Nvidia will use Intel's fourth-generation Xeon CPUs with Nvidia H100 GPUs and CX7 InfiniBand networking for a new generation of lower-power cloud supercomputing and AI systems, chief executive Huang said.
Accelerated computing is one way to reduce the energy footprint of data centre and large computing applications, he said.
"Cloud and AI are revolutionising how companies work and how their products work.
"Computing demand is growing exponentially.
"Data centres already use 4 per cent of the world's electricity, up from 1 per cent five years ago.
"This growth isn't sustainable," Huang said.
"One Nvidia accelerated server can reduce the processing time and energy and cost by x factors."
Supermicro
Supermicro is incorporating the processors into more than 20 new products in its X13 line of servers.
The servers and storage systems can handle cloud workloads, 5G and telco, AI, high-performance computing, big data analytics, streaming and content delivery, and virtualisation.
Supermicro is billing its servers as a way customers can "achieve their sustainability goals" adding that Intel's built-in accelerators can result in more efficient use of computing power.
Tyan
Tyan in collaboration with MiTac Computing Technology is incorporating the chip in several of its new servers on the Thunder-line for AI, analytics, cloud storage and high-performance computing.
A 4U pedestal Thunder HX FT65T-B5652 server is built for smaller high-performance computing workloads that need large computing power at the deskside.
The Thunder HX TS75-B7132 and Thunder HX TS75A-B7132 are dual-socket 2U servers designed for high-performance in-memory computing and virtualization applications.
Tyan's Thunder CX GC68A-B7136 is a 1U dual-socket cloud server for high IOPS compute applications in data centres.
Meanwhile, the Thunder CX GC79A-B7132 is made for workloads that need high volumes of CPU cores and memory, such as virtualisation and in-memory database applications.