CES has historically been a launch pad for many companies' new wares.
This year is no exception as firms ramp up their efforts to grab attention with the latest gadget developments.
The CES venue is packed full of exhibitors across several venues throughout Las Vegas– everything from the latest in artificial intelligence (AI), to new metaverse gadgets, updated laptops and PCs, and even home appliances.
This year, CES says more than 323 Fortune Global 500 Companies have registered, along with 85 Interbrand 100 companies covering 41 technology categories.
Showrunners say 174 countries are represented at these year's massive event.
"For anyone who goes there, I think CES is a beacon of hope and optimism," exhibition chief executive Gary Shapiro said.
"It starts the new year not only on a positive note, but on a note where you realize that you could cut deals, and you could do things, you could be inspired, you could find partners, you could establish business relationships which will change your company or even change the world."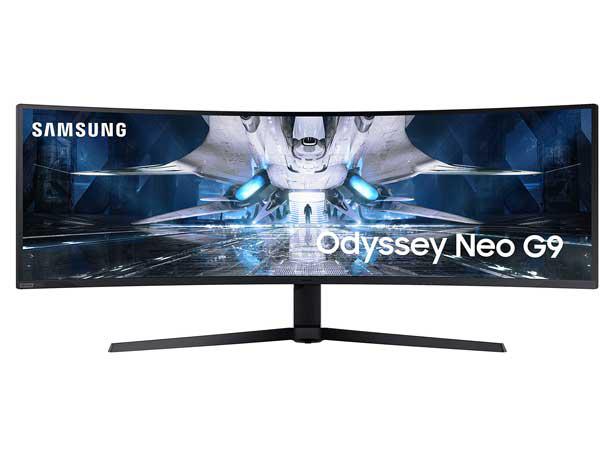 Samsung Odyssey Neo G9 (2023 edition)
The South Korean tech giant's prowess in gaming gear continues to grow with new additions to its Odyssey Neo G9 line of ultra-wide gaming monitors at a whopping 57-inches wide.
These monitors provide a wrap-around gaming experience for the serious gamer.
The Odyssey G9 features a dual ultra-high definition (UHD) display with resolution of 7,680 x 2,160 pixels and 32:9 aspect ratio.
With a 1000R curved 57-inch screen using quantum mini LED technology, the screen refreshes at a rate of 240 Hz.
Samsung has designed the display to provide gamers with precise details and expanded field of view.
Kohler aromatic calming shower pods
In the tech and wellness arena, Kohler is hoping to make a big splash with its new system that adds natural calming scents to your shower for a fresh start (or end) to the day.
The Sprig pod costs US$119 attaches to the Kohler System to release a vitamin-infused, scented "pod cocktail" into the shower stream and will run for several minutes.
Lockly's Flex Touch Pro smart lock system
Homeowners and renters looking to up their home security game can lock down new tech introduced at CES from Lockly that lets you add fingerprint detection to any existing deadbolt lock.
With a retail price of US$229 Lockly's Flex Touch Pro is a retrofit smart lock system that allows you to add smart features to your existing lock hardware.
The Touch Pro uses the company's 3D biometric touch technology to enable quick access to your home and can store up to 99 fingerprints.
Use the provided App to unlock, lock or check door status using Google Home or Amazon Alexa.
Sylph: world's smallest device for detecting airborne chemicals
Japanese startup Ball Wave at CES 2023 is presenting "the world's smallest and lightest gas analyser" that allows for instant environmental assessment on Earth or even in space.
Powered by the company's proprietary Ball Surface Acoustic Wave (SAW) Sensor, the Sylph device detects chemicals while requiring just 1/20th of the power needed to operate conventional instruments for the same task.
"Our invention… enabled us to create the palm-sized Sylph that operates on mobile battery power," Ball Wave's President and CEO Shingo Akao said.
"This compact and powerful sensor has the potential to serve as the 'nose' of robots, sniffing out environmental hazards, yeast in foods, or even disease-signaling chemicals in our bodies," Akao added.
Acer eKinekt BD 3 bike desk
Acer has created a workstation that offers sustainability and exercise options for remote workers with its eKinekt BD 3 bike desk announced at CES 2023.
The US$999 desk/stationary bicycle combination supports healthier lifestyles while creating reusable electricity.
Kinetic energy from pedaling powers the machine and charges devices while the LCD display and a companion smartphone app provide information to help riders keep track of workout goals.
One hour of constant pedaling can generate 75 watts of power.
Acer Halo Swing Smart Speaker
Acer showcased its latest speaker offering, the Halo Swing Smart Speaker, at CES 2023.
The smart speaker offers voice-enabled Google Assistant, water-proofing and DTS Sound through an internal subwoofer for clear vocals and distinctive sound from musical instruments with wide bass extension.
Halo Swing offers 10 hours of nonstop play on a charge.
LandEnergy E Moto District Scrambler
Configure LandEnergy's District Scramber E Motorcycle to be street legal or not – this is an on/off road vehicle that will provide versatility, sustainability and convenience in one cool package.
LandEnergy will be showcasing its latest vehicles at CES 2023 and the US$7800 District Scrambler will likely stand out with its changeable and portable proprietary battery system.
The eMotocycle is capable of reaching about 110 kilometres per hour with a range up to 190 kilometres,
Evie Smart Ring by Movano Health
Movano Health's US$300 Evie Smart Ring is aimed at female consumers with a smart ring focused on women and their health needs.
The ring has been designed and tuned for women and offers the same metrics as other wearables, including stps, activity minutes, calories burned, sleep stages and duration, resting heart rate, heart rate variability, oxygen readings, respiration rate and skin temperature variability.
Airvida T1, "world's first" wearable air purifier with noise cancellation
Airvida's T1 earbuds are far from your typical wearable and will be especially attractive to travelers looking to avoid airborne viruses, allergens, and bacteria.
The company bills the CES-introduced devices as the first wearable ionic air purifier with noise-cancelling earbuds.
Airvida claims the device can protect users from air pollutants and ambient noises.
The tech produces negative ions which can attach to approaching harmful airborne particles and turn them into bigger and heavier chunks that fall to the ground, creating a zone of cleaner air in the facial area, the company says.
Opteeve Technologies ViraWarn reusable breath test for COVID
As COVID-19 appears to be sticking around in the short term, it will be nice to have another way to test for the illness.
Opteeeve Technologies says its tech (still in clinical trials) uses cartridges that measure for viruses by using just your breath.
The cartridges only need to be changed after a positive test or a period of daily use and will give results within 60 seconds. Now that's rapid!
The device is being developed to test for COVID-19, RSV, and flu.